Opened: 1958
Location: 675 E. Foothill Blvd, Azuza California
Capacity: 1,600
Screens: One
Operator: Edwards, Pacific Drive-in Theatres
Closed: 2003
The fact that the Azuza Foothill drive-in survived so long even as a single screen is incredible. The Azuza possessed a fabulous neon marquee that was only done justice when viewed at nigh. For much of its life the Azuza was operated and owned by Edwards Theatres. Along with the Edwards drive-in at East Arcadia, both remained as single screen locations. They must have traded well on the film product supplied as the conventional wisdom suggests multiple screens are required to run first release films.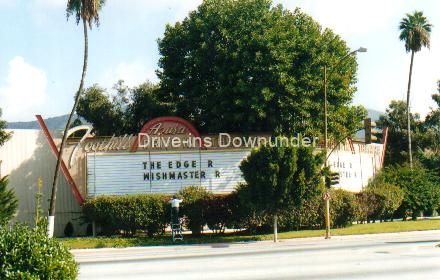 The Azuza drive-in has a very large capacity with still a good deal of space toward the rear that does not contain speaker posts. The drive-in still uses in-car speakers. Porta-loos are an unsightly addition to the rear of the snack bar building, a necessity with a full house in Summer and local city requirements. This drive-in also has blue bins spread across the lot, another unusual feature.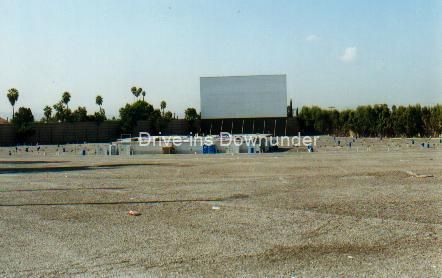 The drive-in has emerged from the Edwards Theatres financial difficulties under the banner of Pacific Theatres. It will be interesting to see if Pacific add screens to the Azuza or simply accept a bid from the University next door. The site lends itself to a four screen operation that would certainly assist in maintaining current film product. For the first time in its history the drive-in now closes in the cooler months, unusual for drive-ins in Los Angeles.