Opened: Late 1940's
Location: 25352 Redlands Blvd, Loma Linda California
Capacity: 700
Screens: One
Operator: Pacific drive-in theatres
Closed: 1990
Whilst drive-in theatres were built all over the world, only Pacific drive-ins in Los Angeles had rear screen murals of the qulity seen here. In fact the Winter snow scene depicted on the Tri-City screen was the last of these to survive. In the early 1990's Pacific closed many of their drive-ins as indoor multiplexes took their toll. The Tri-City drive-in remained in tact for over 10 years until it was demolished in 2000. The snack bar had been burnt down by vandals some years before.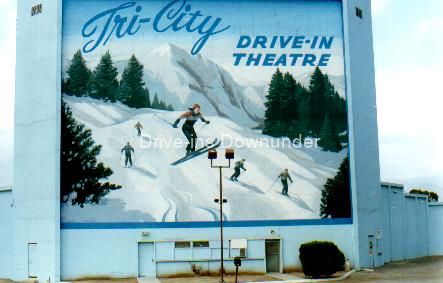 In the 1980's these screen murals were all over 30 years of age, some were demolished for new screens and others left abandoned as the theatre closed. In the case of the Tri-City drive-in, the entire screen mural was repainted. It was originally a fawn colour as opposed to the blue seen here. It's too late now, but Southern California and the world lost a small piece of 20th century commercial art that reflected the character of the areas where these murals existed, when these were torn down. The skiers are on the mural as Big Bear Lake ski trails are nearby in the San Bernadino Mountains.