Opened: 1961
Location: Nepean Hwy, Dromana/Mornington Penninsula Fwy
Capacity: 485 Cars (original)
Screens: Three, four in Summer
Operator: Peninsula Drive-in Pty Ltd
Closed: Open all year
Dromana is one of three drive-ins still operating in the state of Victoria. Built by Lloyd Whitaker and for many years run by his son Paul, wife Shelly and family, recent years have seen a resurgence. This family run drive-in has a strong community presence.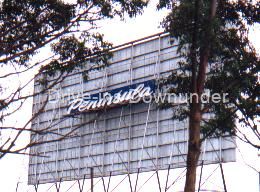 The second screen is the former Hoyts Altona screen with the projection beam originally going through a periscope assembly (like Hoyts former Midcity 6) before hitting the screen. The third screen used unique screw piles instead of the traditional steel in concrete method.