Opened: 1960's?
Location: Robinvale, Victoria
Capacity: 300 Cars
Screens: One
Operator: Robinvale drive-in theatre Pty Ltd
Closed: 1984
You would need detailed directions or local knowledge to find this drive-in. On my first visit I was lucky enough to find the petrol station attendant once worked at the Valley Drive-in.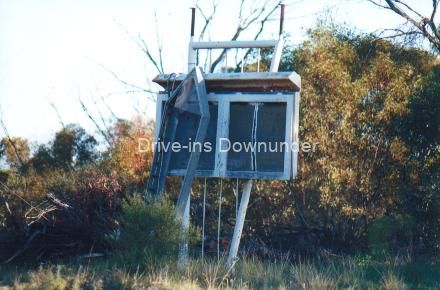 The Valley is not really located in a valley, but is surrounded by orchards, in fact camouflaged by orchards to be specific. Not even a nearby German Shepard tethered to a post can stop me from checking out a drive-in. This place seemed to be a very pleasent place to view a film in days past. A typical country drive-in – with the projection booth burnt to the ground! Only the steel projectors kept the tin roof from laying flat on the ground. Film was actually melted onto spools in the film bench, carbons still in the lamphouses!