Opened: 1950's
Location: Highway 99 West, Riverside, California 
Capacity: 800 Cars
Screens: Three
Operator: De Anza
Closed: Open
From 1989…………………………………Rubidoux drive-in is one of my favorite drive-ins remaining in Southern California. Rubidoux has the classic Californian drive-in look. The main screen has been repainted over the years and has lost its giant neon that can be seen in the book "Ticket To Paradise" on page 114. Rubidoux operates as a swap meet (market site) and this no doubt helps ensure its survival.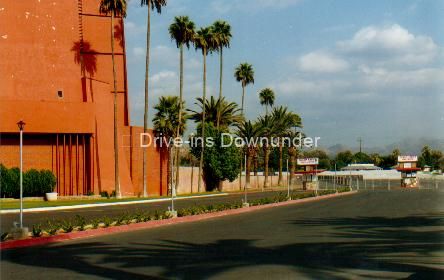 If you live in Los Feliz you probably are not even aware that the long lost Los Feliz drive-in was a victim of the 101 expansion. That's not good news at all if you have a Plymouth Cuda and want to spend a night at the drive-in. Well, why not enjoy a sunset cruise on the San Bernadino Fwy instead, and head out to Riverside? This twilight drive takes you close to the fabulous neon marquee of the Pacific Azuza drive-in, near the prancing horse mural of the old El Monte and practically under the derelict Bel Air screen in Fontana.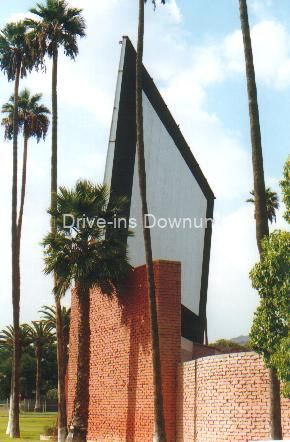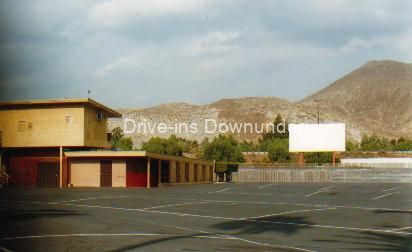 The swaying palms of the glorious Rubidoux drive-in theatre await you. This ozoner wore its heart on its sleeve in the 1970's and looked close to abandonment on several occasions, no longer. On this evening the desert red screen is floodlit and set off against the deep blue sky and arid San Bernadino Mountains that sit due North. Rumble down the driveway and let everyone else know that your ride houses a big block Mopar V8. The downlights illuminate the shrubbery, the ticket boxes are formed with crazy paving, the lawns are manicured and the curbs are painted white. Buddy takes his place 3 rows from the front, just to the left. The Motiograph speaker almost cracks the safety glass as it clings to the Plymouth.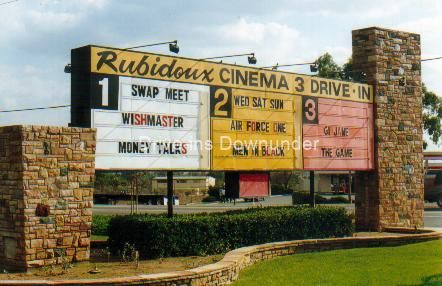 The Cheeseburgers are fresh and Dr Pepper is the beverage of choice. Headlights flash across the screen as crooked cop Richard Gere plays a classic anti-hero in Internal Affairs. The credits roll. Paper cups blow across the ramps, it's way after midnight as the surreal glow of the mercury vapour flood lights wake the few lonely cars on the ramps. The spindly palms now look like set pieces from the Day of the Triffods. One cup of coffee left, just enough to eat up the blacktop on the way home. I imagine how it would have been if the 101 had allowed for a curve just north of Hyperion and I could go four blocks instead of forty miles to the drive-in. (Buddy 1989)