Opened: 1977
Location: McKenzie St. Blackwater
Capacity: 200 Cars
Screens: One
Operator: ?
Closed: 1990's?
Blackwater is located a few hundred kilometers inland from Rockhampton. It's not on the way to anywhere much unless you're headed for the vast inland or the town of Emerald that is a few kilometers further west. The Blackwater drive-in still stands in tact but derelict (in 1999). Horses now roam the ramps, eat in the snack bar and probably use the toilets too! The building is constructed using besser blocks, which is typical of drive-in theatre buildings from the mid-1960's onward. The screen is similar to many later built smaller constructions and is identical to the second screen built at Sandringham drive-in in Melbourne.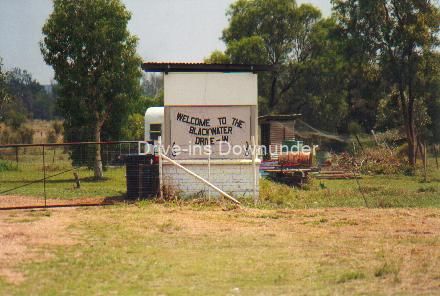 Drive-ins like Blackwater were the meeting place and often entertainment lifeblood of towns across Australia. The films were only part of the attraction, you could mingle on warm nights, eat, drink or choose the seclusion of a quiet back ramp.