Opened: 8th November 1956
Location: Toorak Road near Toronga Road, East Hawthorn
Capacity: 634 Cars
Screens: One
Operator: Independent, later Village/Hoyts
Closed: 1983
What a location for a drive-in! Imagine 20 acres given over to a venture that only operated during the evenings in Double Bay or Beverly Hills, well that is what Toorak drive-in was. Located on top of a hill on part of the former brick works site, nobody who drove up Toorak Road could miss the screen towering over the area. It was an icon for almost 30 years. Originally opened as an independent drive-in and advertised as part of The Big Six chain, the owner Sam Aloni died in the mid-1960's. The drive-in was bought by Hoyts and Village. This was the first of several drive-ins and hardtops that were jointly operated by the two companies over the years. It was advertised as a Village drive-in in their newspaper directories from 1966, yet was staffed and operated by Hoyts! Hoyts staff were not allowed to display the Hoyts logo on uniforms etc.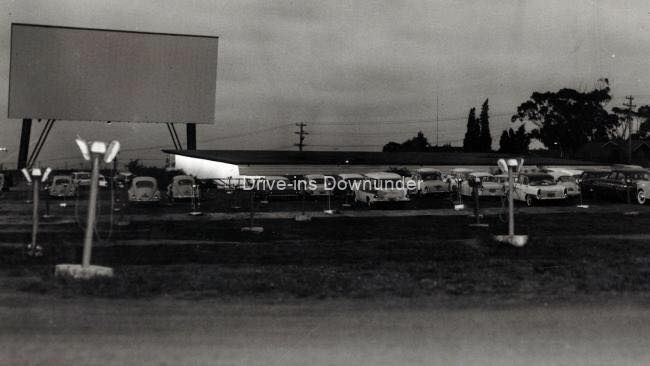 Although run by Hoyts, Toorak ran Village product so it would not directly compete with the Hoyts Skyline drive-in just down the road. When most drive-ins ran just one big session each evening, Toorak still advertised two sessions nightly (this was possible prior to daylight saving). This suggests that business at Toorak was brisk if another few hundred cars were willing to see a show at 10.00pm – late for the 1950's and 1960's. The pressure to realise the enormous value of the land became too great the moment the business started to slide. The land was snapped up by one of Australias largest companies, Coles-Myer. Today it is the headquarters of Coles and was once known as Battlestar Gallactica due to its dark and ominous design of the building. The former drive-in entrance driveway has been used as parking for years and amazingly has not been asphalted over. When the drive-in closed, an elderly resident who lived across the road was asked for her comment "if only it had run matinee's, it might still be in business"!