Opened: 1955
Location: Bulla Road/Melrose Drive, Tullamarine
Capacity: 862 Cars
Screens: One
Operator: Village Drive-in Essendon Pty Ltd
Closed: 1984
Back in the 1980's my mate Ian and I set off to visit as many drive-ins (and indoor theatres) as possible. We thought we had better look at where each other worked first, and Essendon was where Ian worked as assistant projectionist – when such roles existed. It was a cool evening with about five cars spread across the 10 acres of ramps when I arrived, Ian was already on site preparing the projectors and repairing speakers. Fred the projectionist ensured it was all done to his standards. By show time about 30 cars had made it out to Essendon this Sunday evening to see the 53rd revival of "Flesh Gordon". I can't even remember the support but it must have been bad. These prints had seen better days with splices galore and sprocket holes torn throughout the print. The old Century projectors just kept rolling along and let pass even the worst feet of mangled film. Ian showed me the standby generator which was extremely loud when started in the small brick room – why were they always in small brick rooms?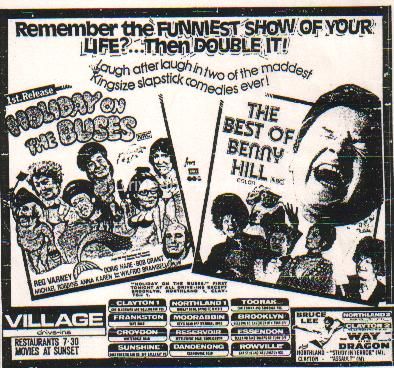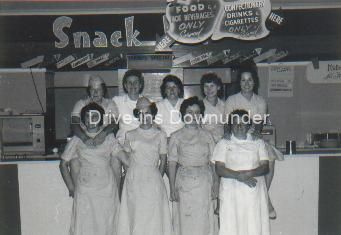 Nearby was a room that contained about 800 drive-in speakers that were retired when Cine-fi was installed some years before. (In the haste to install Cine-fi at drive-ins to improve the sound, all speakers were removed, it wasn't until this time that the theatre operators realised that not everyone had car radios, so a few ramps of speakers were re-installed!) After the night at Essendon drive-in we set off for Denny's and some late night steak dinners. They went down well on top of the Village drive-in donuts. Denny's is now gone and all that remains of Essendon are two speakers hanging on a pole in my backyard.